Research and Press Briefings 2017
The State of Cancer Care in America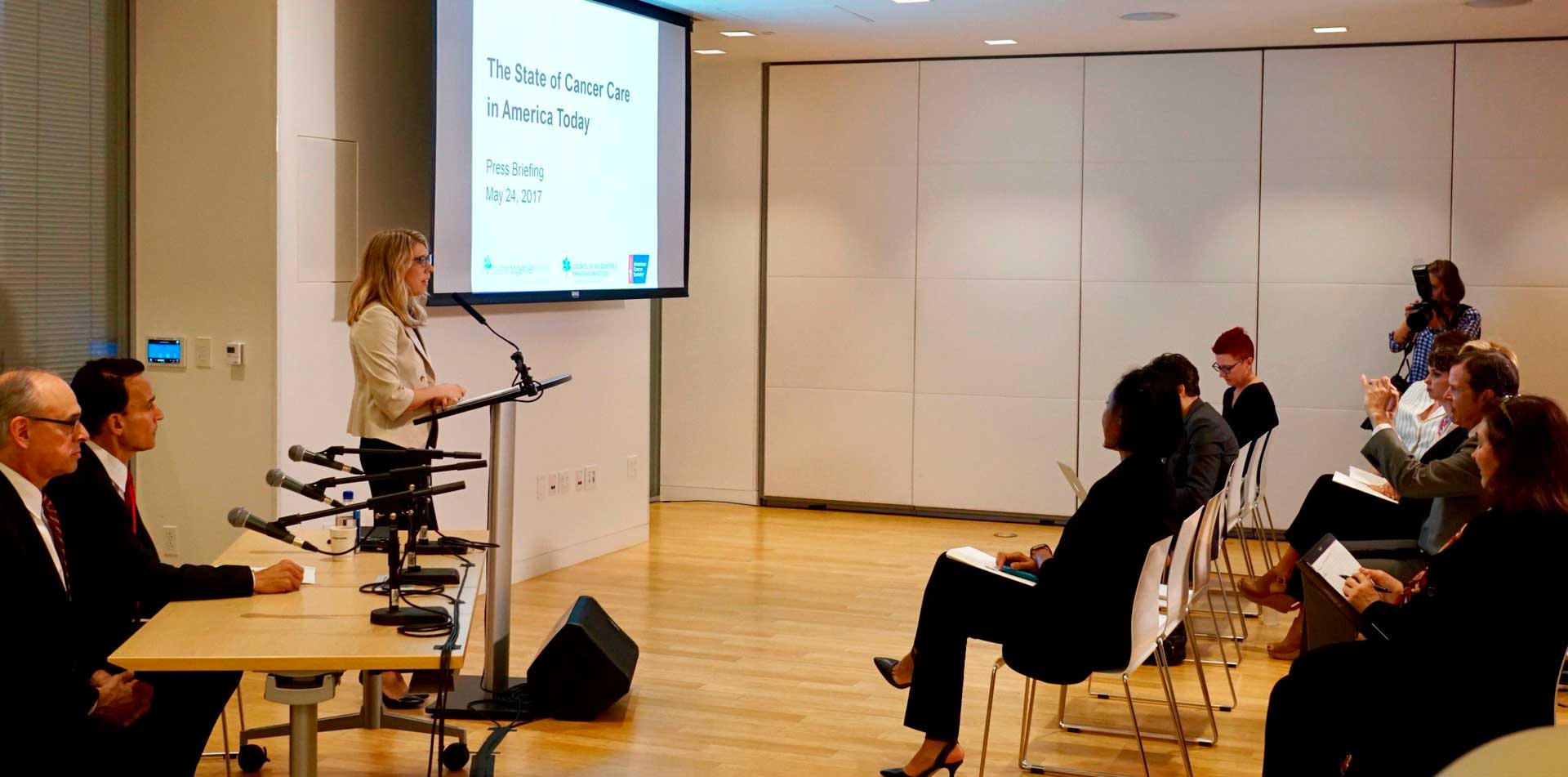 Press Briefing
Connected, coordinated systems of care are the key to saving lives and improving clinical outcomes for cancer patients, according to results presented at "All Systems Go! Closing the Gaps in Cancer Care," the third annual Better Together Health event. Sponsored by the Council of Accountable Physician Practices (CAPP), a coalition of leading multispecialty medical groups, and the American Cancer Society (ACS), the event was held May 24 in Washington, D.C. at the Kaiser Permanente Center for Total Health. The press briefing that was held prior to the main event presented a joint perspective paper from CAPP and ACS on "The State of Cancer Care in America."
The full State of Cancer in America paper can be downloaded here.
Examples of CAPP member group initiatives to improve cancer care can be found here.
Following is the Executive Summary of the paper:
The Beau Biden Cancer Moonshot initiative by The National Cancer Institute sets forth an important goal to advance cancer treatments for all Americans by 2020. While cancer cures and effective treatments are critical, as a nation, we can do much to reduce the incidents of cancer and improve survival rates today. We need to ensure that all patients are protected from cancer risks; get the best chance for survival with access to coverage, care and early detection; and receive coordinated, evidence-based medical care by expert and consistently connected healthcare teams.
The Council of Accountable Physician Practices (CAPP), a coalition of the nation's leading multi-specialty medical groups and health systems, and the American Cancer Society (ACS) have come together to examine what can and should be done to close the gaps that now exist in cancer prevention, detection and care coordination.
Our contribution to the efforts to improve cancer care focuses on the patient experience in cancer care treatment and how organized systems of care can enhance that experience. While research for cures and treatments are underway, we believe that considerable progress toward these goals can be made by tackling prevention, improving the systems for early detection and fast treatment, and providing effective care coordination for patients with cancer.
This State of Cancer Care in America paper addresses:
The current situation regarding the effect of cancer on our nation; cancer disparities within the U.S. population; and the cost of cancer care
The latest research into what patients and their doctors really want from the healthcare system
The obstacles that exist today in preventing and detecting cancer in its early stages to improve survival rates
The challenges in coordinating medical services for people with chronic diseases like cancer
It is our view that only a systems approach can close the gaps in care that result in poor outcomes, as well as bridge disparities caused by race, gender, and economics.
As a society, we must continue to act at both national and local levels to systematically curb the environmental causes of cancer, which include obesity and tobacco use.
On the care delivery side of the equation, a systems approach to identifying and treating cancer quickly and effectively requires that:
Medical groups and health systems are well-integrated, organized and coordinated with each other and with payors
Care decisions, treatment and innovations are led by physicians and clinicians
Detection processes and strong communication and coordination between doctors and patients is incentivized appropriately, moving the payment of medical care from fee-for-service to payment-for-value models
Health systems and physicians have strong robust health information technology to support good communication and coordination of information and services
Data available through those robust technological improvements is used to measure and monitor the impact of cancer interventions and quickly move new cancer treatments into the healthcare system
Most importantly, without comprehensive health insurance that covers not only the cost of cancer once its detected, but also cancer prevention and screening measures that physicians prescribe, many Americans will not be able to access the care they need when they need it.