Research and Press Briefings 2015
High Tech and High Touch: Consumer Survey on Technologically-Enabled Care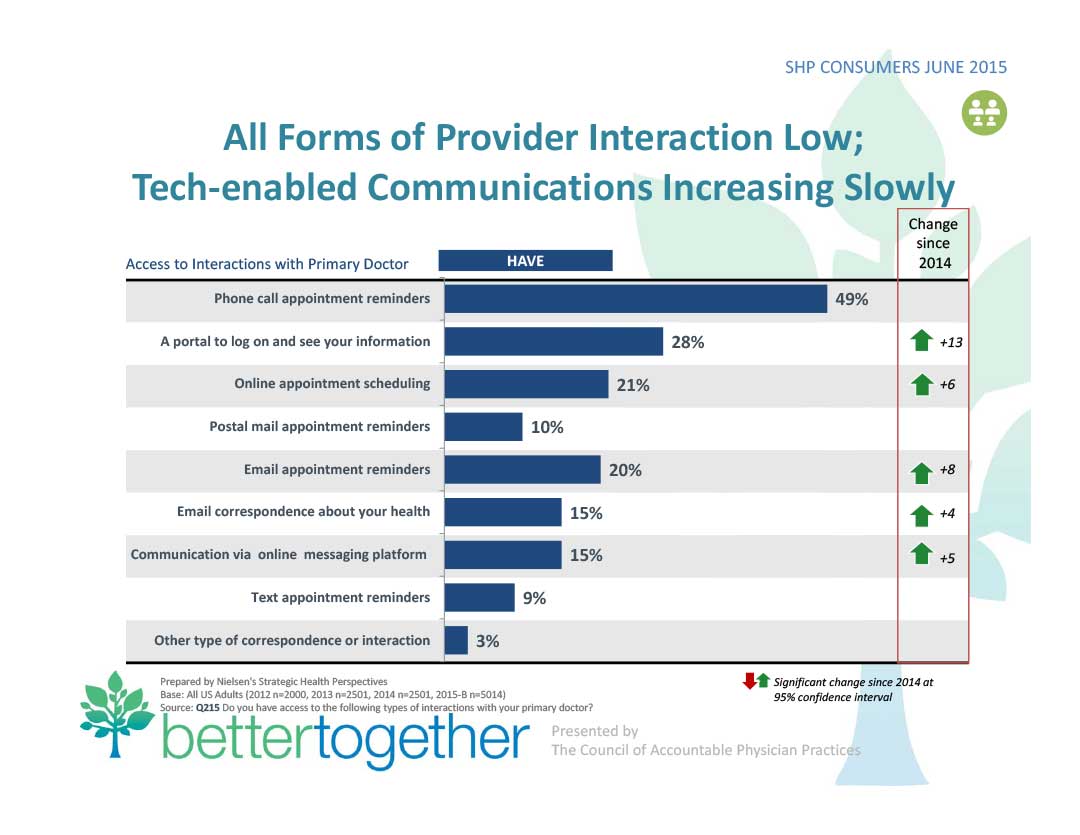 Press Briefing
Today, Americans manage much of their lives through digital and electronic tools, except when it comes to healthcare. According to a new Nielsen survey released by the Council of Accountable Physician Practices and the Bipartisan Policy Center, a majority of Americans are unaware of or don't have access to the technology they could use to communicate with their doctors for better quality health care. The results of this survey were released in conjunction with "Better Together Health 2015: High Tech And High Touch: Patient-Physician Relationships In The New Millennium," an annual event sponsored by CAPP in Washington, D.C.
"Having ready access to a doctor is vital to high quality healthcare. Yet the busy schedules of consumers and physicians alike often prevent timely attention to routine and urgent healthcare problems in the traditional 9 to 5 physician office visit options. Digital technologies can help overcome the barriers to accessing medical care, yet our survey shows that these tools are not available to most Americans," said Robert Pearl, M.D., Chairman of the Council of Accountable Physician Practices and CEO of The Permanente Medical Group and the Mid-Atlantic Permanente Medical Group. "Healthcare providers must step up our adoption of these common-sense and available solutions if we are truly going to reform healthcare delivery."
The survey, conducted by Nielsen Strategic Health Perspectives, polled more than 5,000 Americans ages 18 and over, and looked at attitudes about and use of technology to inform, access and manage their medical care.
Results from those surveyed showed that:
Less than half – 45 percent – receive even the traditional telephone appointment reminders.
Only one in five – 21 percent – have access to online appointment scheduling with their doctors.
Fifteen percent use email to communicate with their provider.
Just 14 percent have 24/7 access to medical advice.
Fewer than one in ten – 9 percent – receive reminders by text.
Only a small percentage – 3 percent – are able to send a photo of a medical condition over email.
Just 2 percent have access to video visits.
The survey also highlighted four consumer groups who were most interested in gaining greater access to their doctors through digital and electronic technology: parents with children covered under their health plans, chronically ill patients, patients with acute conditions, and adults under 35 years of age.
The data also showed that consumers who don't currently have access to their providers through electronic or digital communications are most interested in ready access and online interactions: 36 percent preferred traditional telephone-based medical advice, while 34 and 36 percent, respectively, expressed interest in one-way engagement such as online appointment scheduling and online portals to access test results.
Some technologies showed wider gaps between usage and interest than others among the people surveyed: 36 percent of adults were interested in a 24/7 telephone line for medical advice, yet only 14 percent had used such a tool; 28 percent were interested in text appointment reminders, yet only 9 percent had used them; and 26 percent were interested in submitting photos of conditions in preparation for phone or email consultations, yet only 3 percent had used such tools. Additionally, "virtual care" innovations, such as telemedicine, were found to be almost completely inaccessible to the average patient.
Pearl concluded, "Our CAPP medical groups and health systems are committed to integrating the appropriate technologies to ensure that patients receive the high quality, coordinated and convenient care they deserve. The findings in this survey show that we all must ramp up our efforts to use technology to support the patient-doctor relationship and improve medical outcomes. Appropriate technology used in the context of accountable, coordinated care settings will improve access and produce better results. If we don't take these steps, our efforts in population health management and in delivering accountable care will be seriously hampered."
For more information on the survey findings, click here.